Workshop announcement
For those of you who follow my recycled soft drink bottle jewellery and art forms, I gave an introductory workshop on 5th March at Wangi Library Creative Hub. In August Wangi Creative Hub is expecting to announce a more advanced workshop using soldering irons and other heat sources to create bottle art and elaborate looking jewellery. Sign up to Lake Macs Creative lake Mac newletter to receive information.
In the introductory workshop we made a flower pendant and abstract earrings. In the August workshop we will be making vessels and more elaborate jewellery. (Workshops are run by Lake Macquarie City Council Events)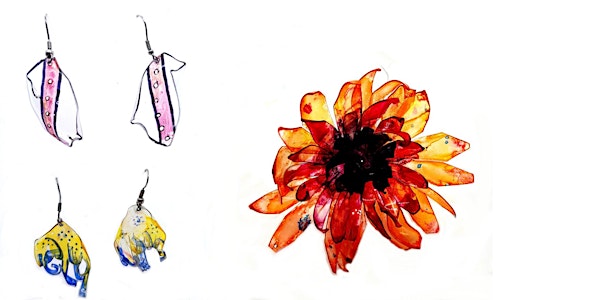 StudioKY Recycling Collection - Overview
My intent is to transform trash into art or at least something useful. In doing so I rid our planet of landfill, balance my personal use of synthetic materials and create something that gives pleasure.
Bottle jewelry is created from discarded (and cleaned) soft drink bottles by cutting, piercing with a soldering iron, or deforming over a heat source. Some soft drink (pop) bottles are coloured but we also add colour with alcohol inks or acrylic paints. Alcohol inks can fade over time but can be quickly refreshed using a Sharpie (alcohol pen) or similar. Coloured bottle earrings should not be cleaned with alcohol based sanitiser or hand wash but are safe to wash with water, detergents etc. The material is very tough and can be bent using pliers without damaging.
The inner tubes from bicycles are a landfill nightmare but can be sewn or cut easily. I use them to make jewelry to balance the jewelry I make from non-sustainable sources.
Many of our homeware range are upcycled pieces (vases, bowls, candlestick holders, salt & pepper shakers) covered with a veneer of our own creation. If you are interested check out our homewares range. The transformation is amazing!
Our website gives you examples of our work: they may not be available but we can make you similar pieces in your colourway, size and choice of fitting. Any piece that was created from a clear plastic bottle can have its colour changed to a colour(s) of your choice. Once you are happy with the image of your bespoke item and wish to purchase we will list the item with a payment button (or send you an invoice). If the item is available we can add a payment button at your request. Check out some of our commissions.
Price guide.
Earrings are mostly $15 for stainless steel fittings and $20 for sterling silver fittings. Studs are $10.
Necklaces vary from $30 to $100. The price will reflect the length and complexity of the piece.
Pendants are from $10 to $15 without the necklace. Simple choker necklaces for pendants start at $5.
Bangles and cuffs start at $10. Most will be around $15 but if simple about the same price as a pendant.
Rings are about $20.
Bottle art. Small bowls are $10, medium/simple pieces $15 and large pieces $20 to $25
Postage
We will use AUS POST. Items to be sent to an Australian address that can be sent in a CD mailer are $5 (flat earrings, usually although some necklaces will fit). Small parcels are $10. Anything else will have to be quoted. Pick up is available from our market stall or my studio. Other arrangement can be made with me during purchase negotiations.
Refunds & Return
We stand by the quality of our works. Goods that do meet form, fit and function will be replaced or the component replaced without question. It will the discretion of the maker to decide what is appropriate. Irregularities that are part of handmade should be expected and if visible in the image or could reasonably have been assumed, are not cause for authomatic replacement. Images should be sent as soon as the issue arises so a full and open discussion can take place. A happy customer is potentially a repeat customer!
Care instructions
Soft drink bottle. Very robust! Will take almost anything you throw at it. Jewelry can be worn in the shower, swimming or at play. It is very light! Spray sanitisers are suitable unless alcohol inks are used (common) in which case do not use an alcohol based sanitiser. Do not use heat sanitising methods. If you do remove some of the colour or notice that the colour has faded, you can be quickly refreshed using a Sharpie (alcohol pen) or similar. Obviously, you can chose to remove the colour using alcohol and change to colour to suit your new clothes. Spraying with alcohol will mute the colours and cause some blending.
Stainless steel fittings can be washed and sanitised. If dull can be cleaned with a clean cloth or patented cleaning product.
Sterling silver fittings can be washed and sanitised but if it dulls it should be rubbed with a clean dry cloth (impregnated with tarnish remover only if necessary) to remove oxide. .
Bike tube necklace (BT001)
Bike tube necklace (BT002)